Welcome to Tenerife!

---
Watching the world's largest mammal is undoubtedly a sight to behold.
But not everyone is lucky enough to catch a glimpse at the right time. Since whales often swim towards the surface for a breather, knowing the best time and hotspots increases the probability of you spotting some happy whales around!
One such famous whale/dolphin watching location is Tenerife, the most populous spot in the Canary Islands. It boasts a rich fauna, including fish, birds, reptiles, amphibians, and mammals like whales and dolphins. 
In this guide I will show you what makes these tours so special, what the hotspots are and the rich history that the Tenerife culture & its people share with these gentle giants and their dolphin cousins.
I wish you a whale of a time!
Whale Watching in Tenerife

Speaking of whales and dolphins, the resident species of Tenerife include short-finned pilot whales and bottlenose dolphins. In addition to these, the island is an occasional/seasonal spot for sperm whales, false killer whales, Atlantic spotted dolphins and common dolphins.
This island is blessed with 21 different species of aquatic mammals because of the favorable weather, which is sunny all year round. On top of that, the occasional sea breeze makes the temperature perfect for humans and whales alike! After all, who doesn't like some sunshine mixed with the ocean mist?
Further, Tenerife is an affordable holiday getaway as compared to other exotic locations around the world. With cheap flights and budget hotels, the island is always bustling with travelers. And the fact that almost every trip ensures whale sightings is the cherry on the cake!
Thus, here are some affordable tour packages in and around Tenerife for whale watchers or the usual "wanderlust" enthusiasts. So, without further ado, let's dive right in…
---
Our Pick: Dolphin and Whale Eco-Cruise with Food & Drinks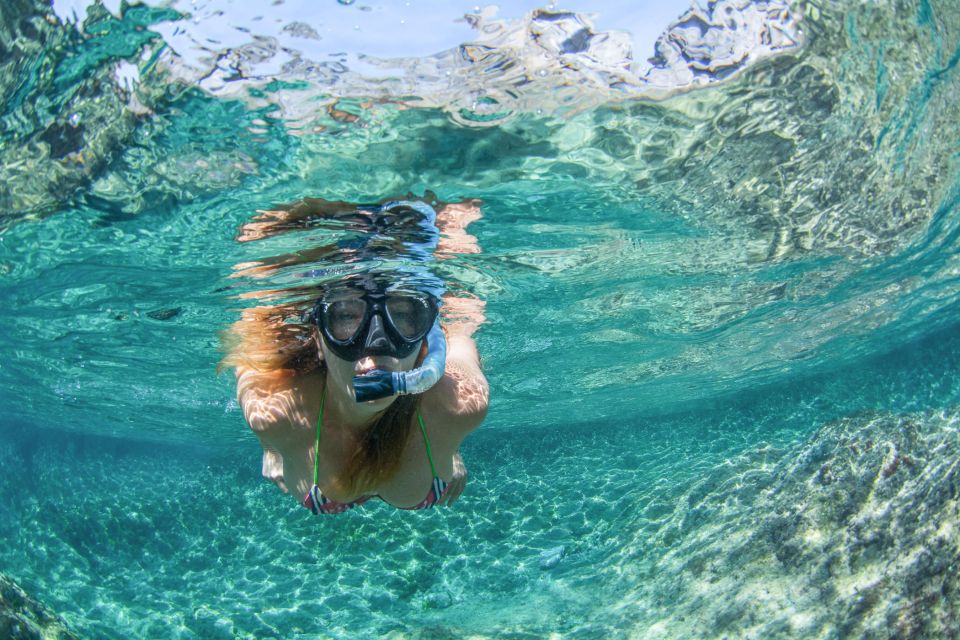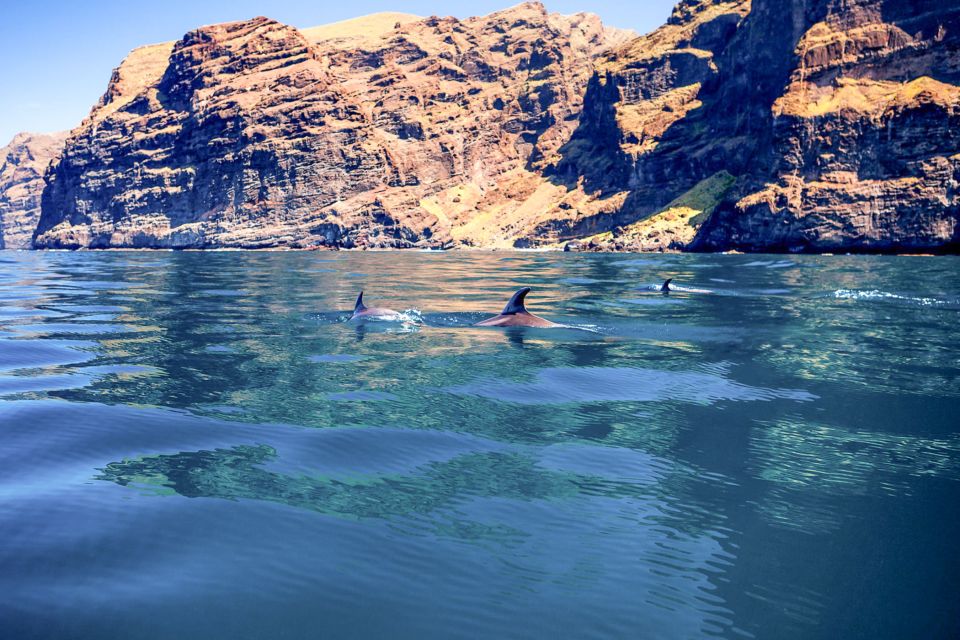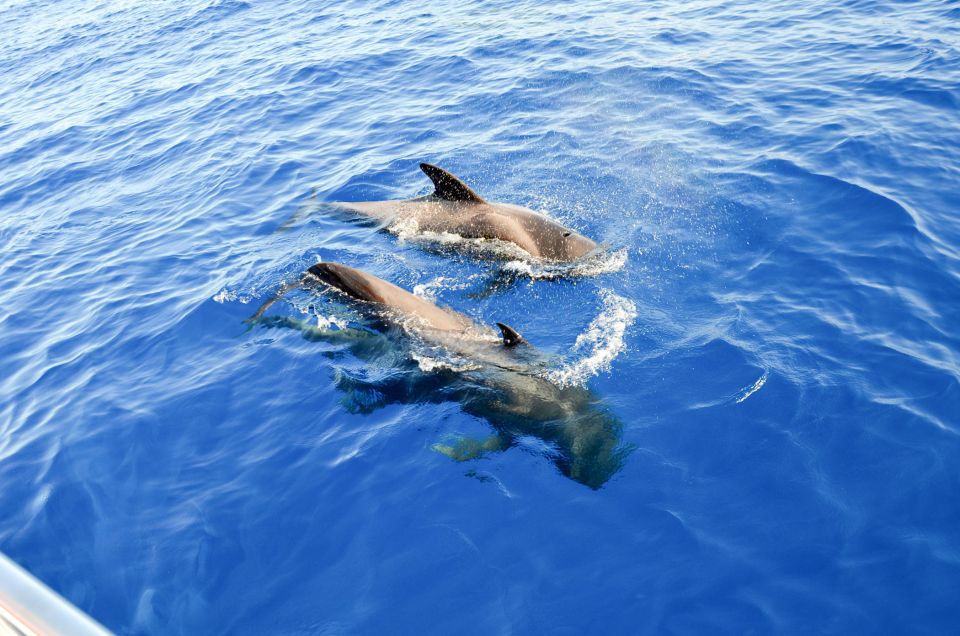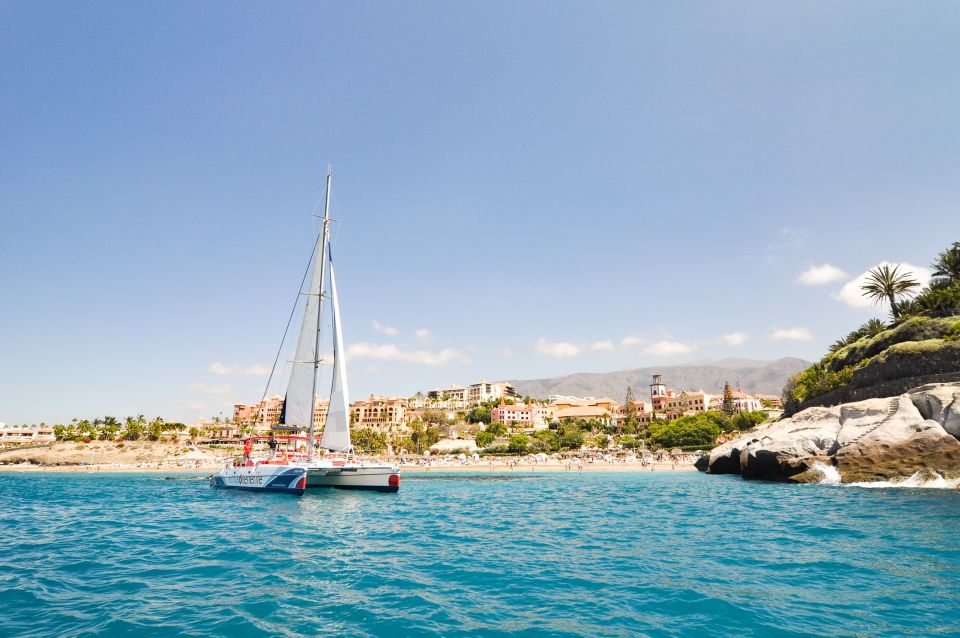 whale-watching-tenerife-island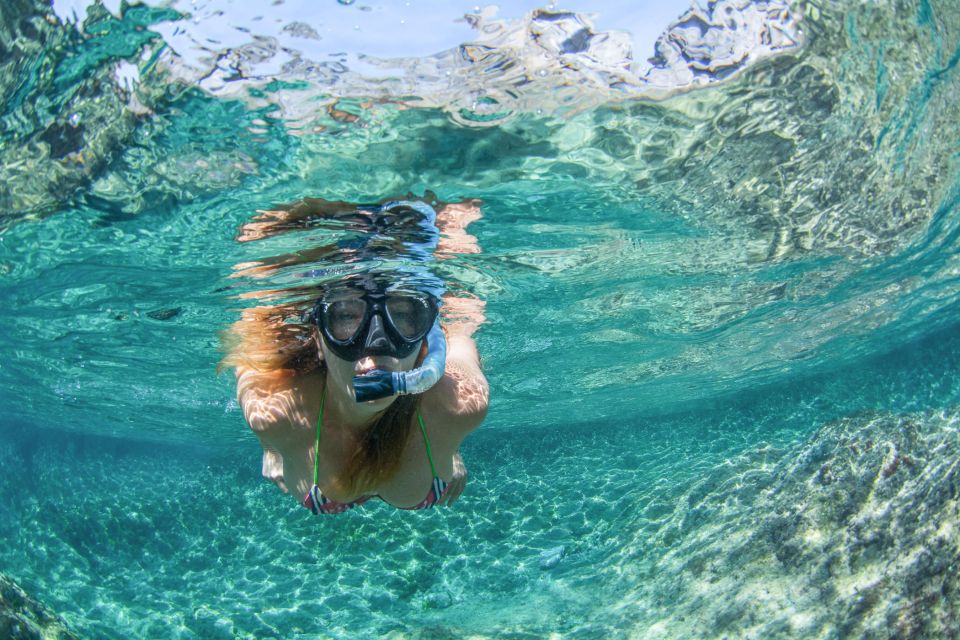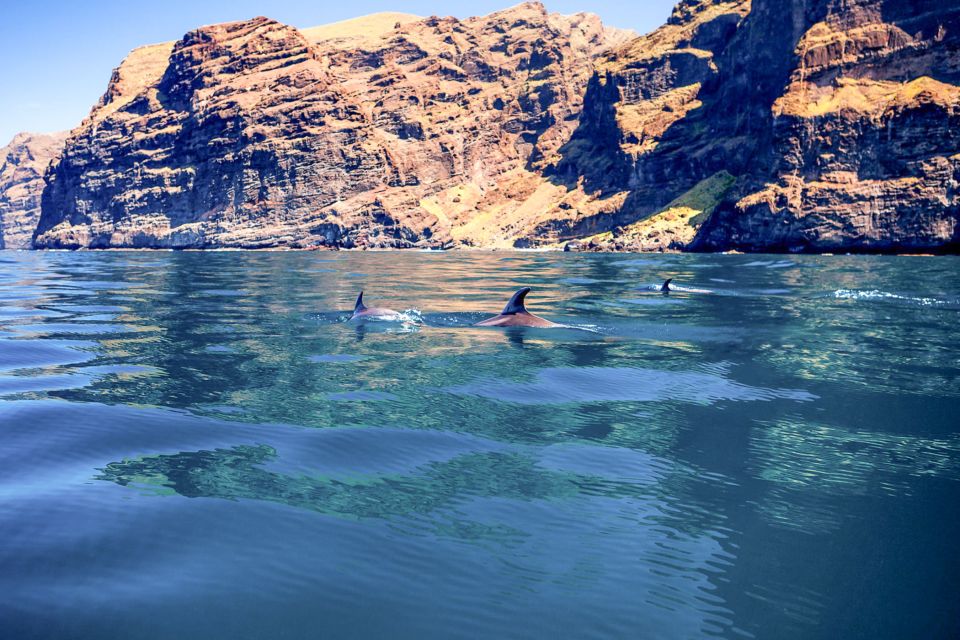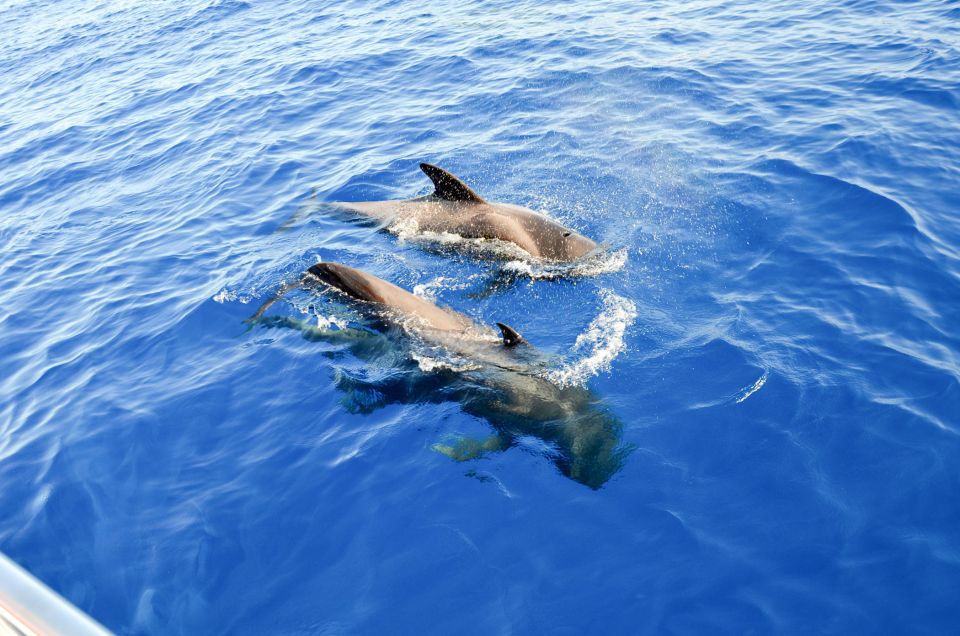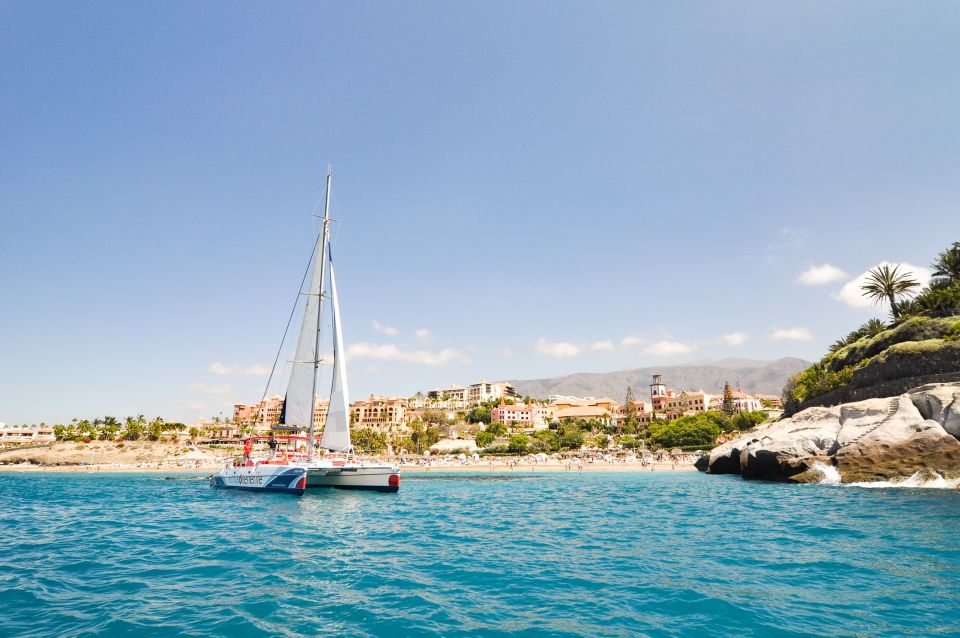 The trip starts with the crew announcing safety instructions. Then the fuel-efficient catamaran sails towards the best whale/dolphin watching spots around the island. The live commentary will keep you on track in English, Spanish, or German, while the underwater sound equipment ensures an immersive experience.
The eco-boat pauses by the Teno-Rasca Whale Sanctuary, the official conservation zone for Tenerife's marine life, followed by the gorgeous beaches, Playa de las Américas and Playa de Los Cristianos. And if it is your lucky (and a clear) day, you might even spot the famous Mount Teide!
Moreover, you can take a refreshing dip in the Atlantic waters before heading to the shore. Note that the 5-hour extended tour includes a visit to Los Gigantes and Masca Bay, and a wholesome serving of Spanish delicacy, Paella Valenciana, with wine.
---
About This Activity
Highlights
3-5 hours duration
Instant confirmation, free cancellation, and rescheduling if no whales or dolphins are spotted
Whale/dolphin watching in a conservation area
Expert commentary and underwater sound equipment
Swimming/snorkeling allowed
Refreshments included
5-hour tour option includes more tourist attractions and delicacies
What You Should Carry
Comfortable shoes
Jacket
Sun protection (SPF lotions, sunglasses, etc.)
Swimwear and towel
Snorkeling gear
Camera
Medicines, if any
---
Other Tours
Best Private Luxury Whale Watching Tour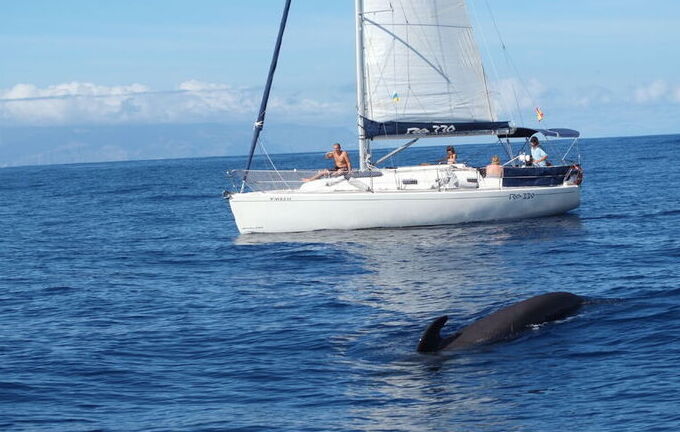 This luxury tour includes a 3-hour long yacht cruise through the most populated whale spots of Southern Tenerife.
With state-of-the-art equipment, you can catch a closer glimpse of these exotic water mammals. The trip concludes with
a swim with the turtles and complimentary refreshments.
Best Whale Watching Safari For The Money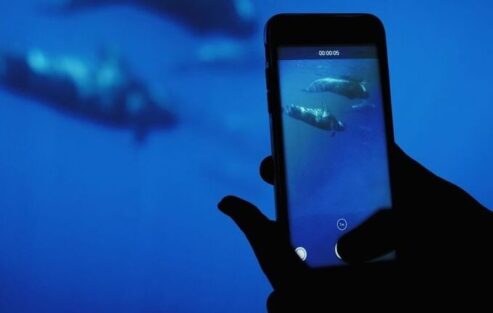 This tour boasts a stylish catamaran with underwater viewing stations. The trained crew uses their expertise to track flocks of whales along the coastline. Top it off with free lunch and a glass of beer/sangria/soft drinks to end the tour on a hearty note!
Other Great Wildlife & Nature Tours in Tenerife

---
Scuba Dive For Beginners in Turtle Area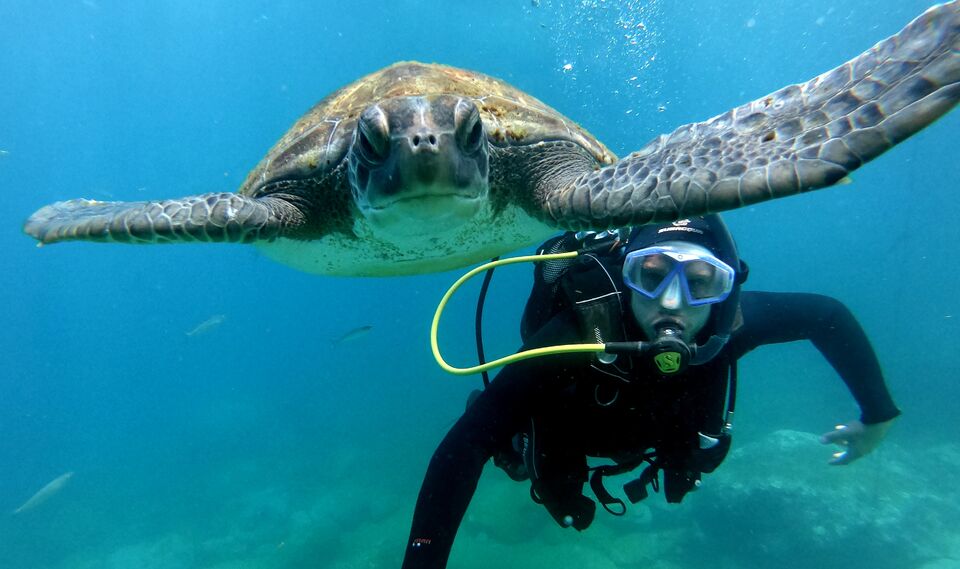 This 3-hour scuba diving session is the best bet for amateur divers.
With the supervision and control of your PADI-qualified instructor, you will witness the enthralling aquatic life and go back with a new skill!
Teide National Park Stargazing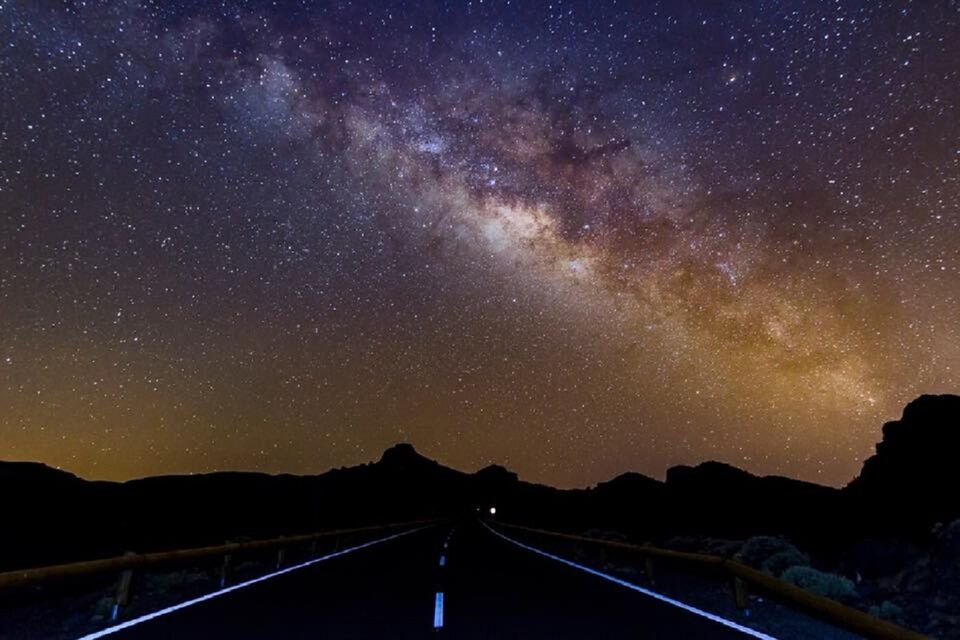 Soak in the calming sunset and the sparkling constellation through computerized telescopes.
And don't forget to collect your free photos and a sunset time-lapse before you leave! You will love it.
Kayaking with Dolphins & Turtles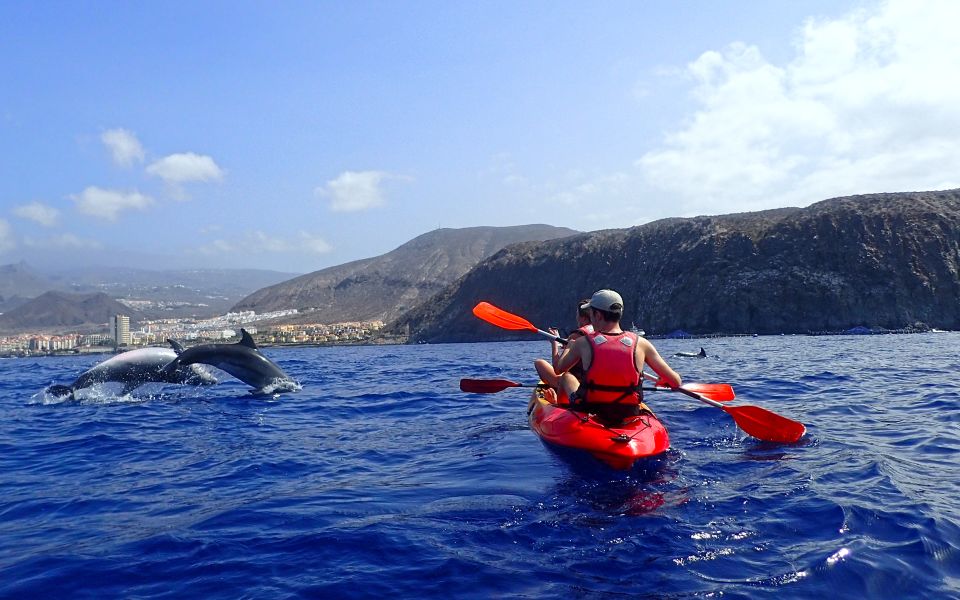 This 2.5-hour kayaking adventure lets tourists get up close and personal with the marine life of the Tenerife waters.
You might even witness the magnificent sight of multiple dolphins jumping into the air! Amazing, right?
FAQ

---
When can you see whales & dolphins in Tenerife?
Pilot whales and bottlenose dolphins can be seen all year round. However, migratory whales can be spotted during the winter months, i.e., November to February.
On the other hand, sperm whale sightings have reduced from all year long to spring and summer months only.
The gigantic blue whales can also be seen from December to February during their migratory season. But this happens rarely.
Where can you see whales & dolphins in Tenerife?
Costa Adeje and Los Gigantes are the main harbors that host several whale/dolphin watching tours in Tenerife.
Besides being home to a large variety of marine mammals, the southern shore of this island is ideal for a number of boat activities and water sports.
Can you swim with whale & dolphins in Tenerife?
Most of the tour packages mentioned above include a swimming/snorkeling break.
However, swimming with whales and dolphins is forbidden. While some parks offer this activity, it is not respectful and safe for aquatic mammals.
We encourage you to report such parks to AWdF or Frontier to prevent this unsustainable practice.
What types of whales & dolphins can you spot in Tenerife?
Some of the whales and dolphins spotted frequently include pilot whales, sperm whales, bottlenose dolphins, Risso dolphins, and more. Albeit not a resident of the Tenerife waters, killer whales also happen to surprise the tourists once in a while!