Welcome to Gran Canaria!
Dolphins are beautiful, majestic creatures that amaze and awe us with their grace. However, sighting them can be quite challenging since they are constantly on the move and are difficult to find. Thankfully, Whale Watching in Gran Canaria has become a very popular eco-friendly tourist activity.
Right off the coast of northwestern Africa, you will find a beautiful spot known as the Canary Islands. This picturesque location is known for its breathtaking golden sandy beaches. In fact, you will most likely find Gran Canaria thronged with tourists and locals alike, enjoying a warm summer's day by the beachside.
However, Gran Canaria is not just known for its majestic beaches but also its rural spots and mountainous regions. You can enjoy the best of both worlds in Gran Canaria. Of course, the major tourist attraction here remains dolphin and whale watching.
As such, there are dozens of boat tours that give you a chance to sit back and enjoy watching these stunning creatures in their natural habitat. If you are feeling adventurous, do opt for guided tours where you can interact with them at close proximity.
If you have been looking for the ideal location for whale and dolphin watching on the Canary Islands, consider Gran Canaria. To learn more about this dreamy beach location and the best places for eco-friendly whale and dolphin tours, read on!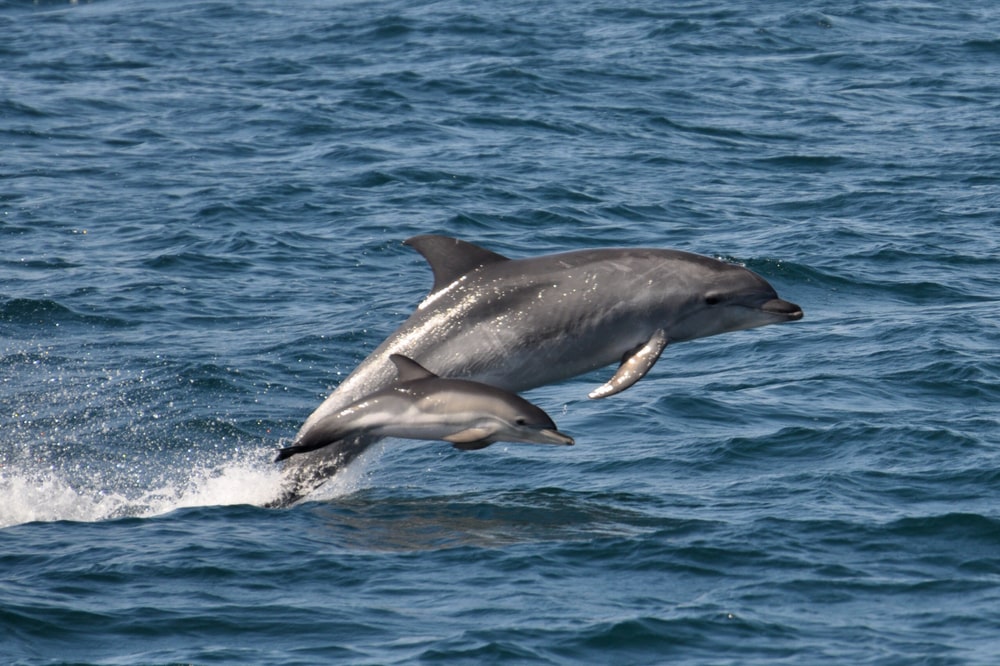 Best season to see whales & dolphins in Gran Canaria?
Anytime you visit! Yes, there is no "best time" to see whales and dolphins, as these majestic creatures can be spotted anytime at Gran Canaria.
Best places to see whales & dolphins in Gran Canaria?
The best destinations to spot whales and dolphins would be the beautiful beaches of Gran Canaria. Of course, remember to opt for guided tours and boat trips for the best experience. Other places to go whale watching on the Canary Islands include Tenerife, Lanzarote and Fuerteventura.
Can you swim with wild whales & dolphins in Gran Canaria?
No, it is against the law to get in direct contact with wild whales and dolphins on Gran Canaria. Opt for guided boat tours to swim with and enjoy close (but not direct) interaction with the whales and dolphins at the stunning beaches of Gran Canaria.
What types of whales & dolphins can you spot in Gran Canaria?
Bottlenose dolphins are native to Gran Canaria and are quite easy to spot. You might also come across Orcas, Sperm Whales, and Pilot Whales, so be sure to carry a camera and keep a keen lookout!
Beste Whale & Dolphin Tour in Gran Canaria
Dolphins are friendly creatures who thrive on human interaction. However, you have to be cautious not to scare them or make them uncomfortable in their natural habitat. Keeping that in mind, the Dolphin And Whale Watching Cruise is our top recommendation! And here is why..
What does your day look like?
Opt for this luxury tour on a glass-bottom boat where you can enjoy the magnificent dolphins and whales swimming right under you. Your boat trip will start with the crew announcing all the necessary safety instructions. Then, the passengers on board are taken on a 2.5-hour tour of the beautiful waters surrounding Gran Canaria. You will be in close proximity to the whales and dolphins and can watch them frolicking and enjoying their natural habitat. There is even an underwater glass view!
Onboard passengers are allowed to take as many pictures as they wish to and interact with the beautiful creatures. Moreover, there is an onboard bar for you to relax and enjoy if you wish to sit back with a drink and take in the picturesque beauty.
You can choose the preferred tour timings – either 11:00 AM or 2:00 PM, and you will be escorted accordingly.
Check the availability and price of the tour here!
Highlights
2.5-hour dolphin watching experience
Mobile ticketing and printing of vouchers for convenience
Live tour guide in English and Spanish
Wheelchair accessibility
Instant confirmation of your ticket with free cancellation
Underwater glass view to watch the animals under water!
What You Should Carry?
Sunglasses and sunscreen
Comfortable pair of shoes
Camera
Personal medication
Towel
Other fun things to do in Gran Canaria?
Las Canteras Beach Snorkeling Experience
If you want to get up, close, and personal with the gorgeous marine life in Gran Canaria, the Las Palmas, Las Canteras beach trip might be ideal. All of your snorkeling gear will be provided. Furthermore, a diving instructor will be present at every step to guide you through this breathtaking experience. Click here to learn more about this activity!
Gran Canaria Beginners Scuba Diving Program
New to the world of scuba diving? Don't worry. Opt for this half-day beginners scuba diving class to enjoy a world-class experience under the beautiful Atlantic Ocean. The program lasts five hours, during which you will be guided through the stunning waters off the coast of Gran Canaria. Click here to learn more about this activity!
Playa del Inglés Surf School
Always wanted to try your hand at surfing but have no experience? This tour gives you a chance to surf on the best beach spots in Gran Canaria with the help of qualified instructors. After you're done, you can enjoy a nice, peaceful picnic on the beach and make new friends.
Don't worry about safety precautions – your instructor will ensure that everything is safe and set in place for an enjoyable experience. Click here to learn more about this activity.