Welcome to Fuerteventura!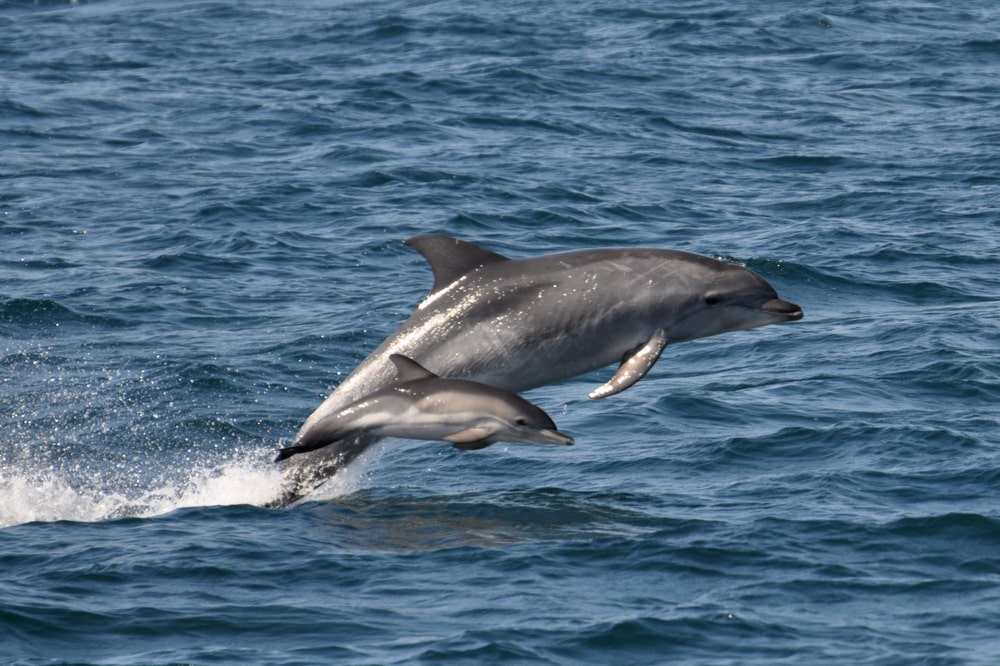 When can you see whales and dolphins in Fuerteventura?
Are you eager to witness these magnificent marine creatures in their natural habitat? Then you'll be happy to know that whales and dolphins can be spotted all year round in Fuerteventura! The crystal clear Atlantic waters that surround the island are teeming with an abundance of diverse aquatic life, including several species of whales and dolphins. While sightings are common throughout the year, visiting the island's hotspots during the summer months, especially in June, can significantly increase your chances of encountering these magnificent creatures.
It's important to note that, as with any wildlife, movements can be unpredictable, and there is never a guarantee of sightings. But fear not! Even if you don't spot any whales or dolphins during your excursion, you'll still be treated to the breathtaking beauty of the open ocean and the stunning coastline of Fuerteventura.
Where can you see whales and dolphins in Fuerteventura?
The port of Morro Jable is one of the most popular starting points for whale-watching tours due to its strategic location on the southern coast of the island. From here, you can easily access some of the most impressive locations in the region, such as the Jandía Natural Park. This area is located on the southern tip of the island and offers spectacular views of the Atlantic Ocean, making it a perfect spot for whale and dolphin sightings.
Another popular destination for whale-watching tours is the Isla de Lobos, a small island located just a short boat ride from Fuerteventura's north coast. The island is named after the large number of sea wolves (or monk seals) that once inhabited it, and it's now a protected natural reserve that is home to an abundance of marine life. Visitors can enjoy breathtaking views of the Atlantic Ocean, and with a bit of luck, spot some of the many species of whales and dolphins that inhabit these waters.
If you're looking for an alternative to the traditional whale-watching spots, Caleta de Fuste is a great option. This town is located on the east coast of the island and offers fantastic opportunities for spotting dolphins, as well as occasional sightings of pilot whales and sperm whales.
For even more exciting whale-watching opportunities, you can also check out the neighboring islands of Tenerife, Lanzarote, and Gran Canaria. These islands are known for their fascinating marine ecosystems, with various species of whales and dolphins being commonly spotted in their surrounding waters.
Can you swim with whales and dolphins in Fuerteventura?
What types of whales and dolphins can you spot in Fuerteventura?
Alright, let's dive deep and learn about the cool whales and dolphins you can spot in Fuerteventura! Did you know you can spot up to 29 different species?
First up, we have the super friendly bottlenose dolphins (Tursiops truncatus). They are the most commonly sighted species in the Canary Islands, including Fuerteventura. They often travel in groups and can be seen playing around boats or chasing schools of fish. So cute!
But wait, there's more! You might also get lucky and spot pilot whales (Globicephala macrorhynchus), fin whales (Balaenoptera physalus), sperm whales (Physeter macrocephalus), and humpback whales (Megaptera novaeangliae). These majestic creatures are known for their impressive size and stunning acrobatic displays.
And get this, some local fishermen have even spotted orcas (Orcinus orca) around the island waters. How cool is that?! However, we gotta warn you, these killer whales are pretty unpredictable and rare to see, so don't get your hopes up too high.
So, whether you're a fan of the friendly bottlenose dolphins or the magnificent humpback whales, there's a good chance you'll spot some amazing cetaceans while whale watching in Fuerteventura. Get ready for an unforgettable adventure!
Beste Whale & Dolphin Tour in Fuerteventura
What does your day look like?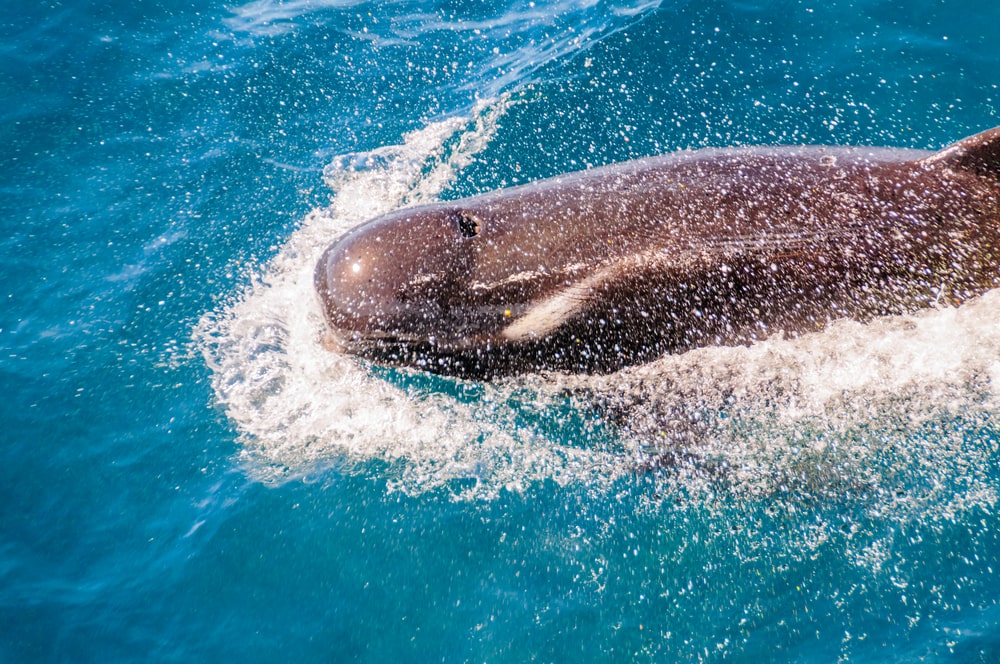 Highlights
Whale and dolphin watching in protected area
1.5-hour boat cruise
Instant confirmation and free cancellation
Conveniently book slots on your phone
Pickup from hotels
Complimentary lifejackets
Expert commentary in multiple languages
Suitable for people with limited mobility
Not suitable for pregnant women and kids under two years
What You Should Carry?
Cool facts about Fuerteventura
Fuerteventura is a beautiful island with plenty of fascinating features and facts. Here are some of the coolest facts about Fuerteventura that will make you appreciate this stunning island even more.
First off, Fuerteventura is the second-largest island in the Canary Islands, covering an area of 1,660 square kilometers. The island is located in the Atlantic Ocean, just 100 kilometers off the coast of Africa. Due to its location, the island has a unique blend of Spanish, African, and South American influences.
One of the most unique things about Fuerteventura is its climate. The island is often called the "island of eternal spring" because it enjoys a pleasant climate all year round, with an average temperature of 24°C. Even during the winter months, the temperature rarely drops below 18°C.
Fuerteventura is known for its stunning beaches, which span over 340 kilometers along the coastline. The island is also famous for its strong winds, which make it a popular destination for windsurfing, kitesurfing, and other water sports.
It's also important to note that Fuerteventura is a UNESCO Biosphere Reserve, with over 30% of its land protected. This status helps to protect the unique ecosystem of the island, which is home to several endemic plant and animal species.
Finally, Fuerteventura is a cultural melting pot, with influences from Spain, Africa, and South America. The island has a rich history, with evidence of human habitation dating back over 4,000 years. The island has also been visited by many famous explorers throughout history, including Christopher Columbus and Jean de Béthencourt.
Other Wildlife & Nature Activities in Fuerteventura
Calderón Hondo Volcano Tour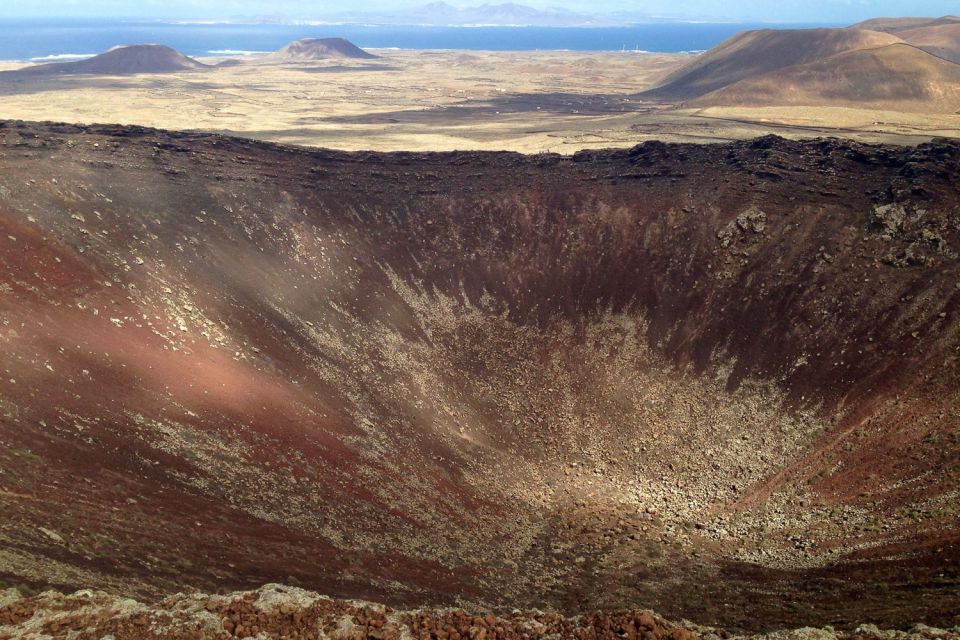 The Fuerteventura Volcano Tour is an exciting adventure that takes you through the rugged landscape of the island, exploring its volcanic origins. Led by an experienced guide, this tour offers a unique opportunity to discover the geological wonders of the island.
The tour begins with a drive to the northern part of the island, where you will explore the picturesque town of La Oliva, the former capital of Fuerteventura. From there, you will make your way to the Tindaya Mountain, a volcanic peak that is surrounded by myths and legends. Here, you will have the opportunity to marvel at the stunning views of the island's rugged terrain.
Next, you will visit the Corralejo Natural Park, which is home to some of the most spectacular volcanic landscapes on the island. The park is known for its vast sand dunes, crystal clear waters, and impressive lava formations. You will have ample time to explore the park and take some stunning photos of the natural scenery.
The tour also includes a visit to the Timanfaya National Park, located in the south of the island. This park is home to the Montañas del Fuego, a series of dormant volcanoes that last erupted in the 18th century. You will have the opportunity to explore the volcanic landscape and learn about the unique flora and fauna that have adapted to survive in this harsh environment.
The tour concludes with a visit to the beautiful village of Yaiza, which is known for its whitewashed buildings and charming cobbled streets. Here, you will have the opportunity to enjoy a traditional lunch and sample some of the local cuisine.
Overall, the Fuerteventura Volcano Tour is a fantastic way to explore the natural beauty of the island and learn about its volcanic origins. Whether you're a nature lover, history buff, or simply looking for an exciting adventure, this tour is definitely worth checking out.
E-Bike 3-Hour Tour From Corralejo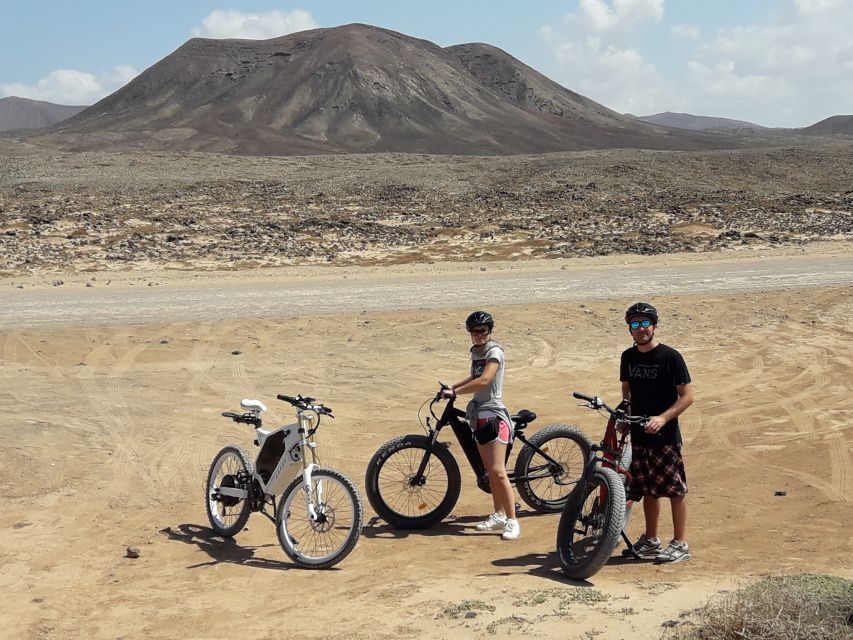 The Fuerteventura E-Bike 3-Hour Tour from Corralejo takes you on a journey through the unique landscapes of the island. You'll meet your guide in Corralejo, where you'll be equipped with an electric bike that will make your journey a breeze.
As you start pedaling, you'll head towards the dunes of Corralejo, where you'll enjoy the breathtaking views of the ocean and sand. Your guide will take you through the fascinating history of the area and share the geological wonders of the island. The tour includes a stop at a volcano that erupted around 10,000 years ago, creating unique terrain that makes for a one-of-a-kind adventure.
Along the way, you'll encounter other natural wonders, such as the Malpais de la Arena, a black sand beach, and the Tindaya Mountain, a site of cultural and spiritual significance for the locals.
This tour is perfect for nature lovers who want to explore the beauty of Fuerteventura on an e-bike. With the assistance of the electric motor, you'll be able to cover more ground without exerting too much effort. The tour is suitable for all fitness levels, and no prior e-bike experience is required.