Welcome to Lanzarote!
Let me explain to you why whale watching in Lanzarote is a great way to relax and have fun!
A family vacation can get stressful if you are unsure of what you're going to do, right? Usually, vacations like these have people of all ages, making it challenging to zero in on a few activities. Plus, it often seems that whatever little there is to do can be done anywhere, and going on a vacation for it is pointless. But one activity that has been a hit among all ages is dolphin watching.
And the best place to see them is one of the Canary Islands called Lanzarote. This Spanish island is full of lush green, exotic animals, and of course whales and dolphins!
In this guide I will show you the best eco-friendly dolphin and whale watching trips that Lanzarote has to offer.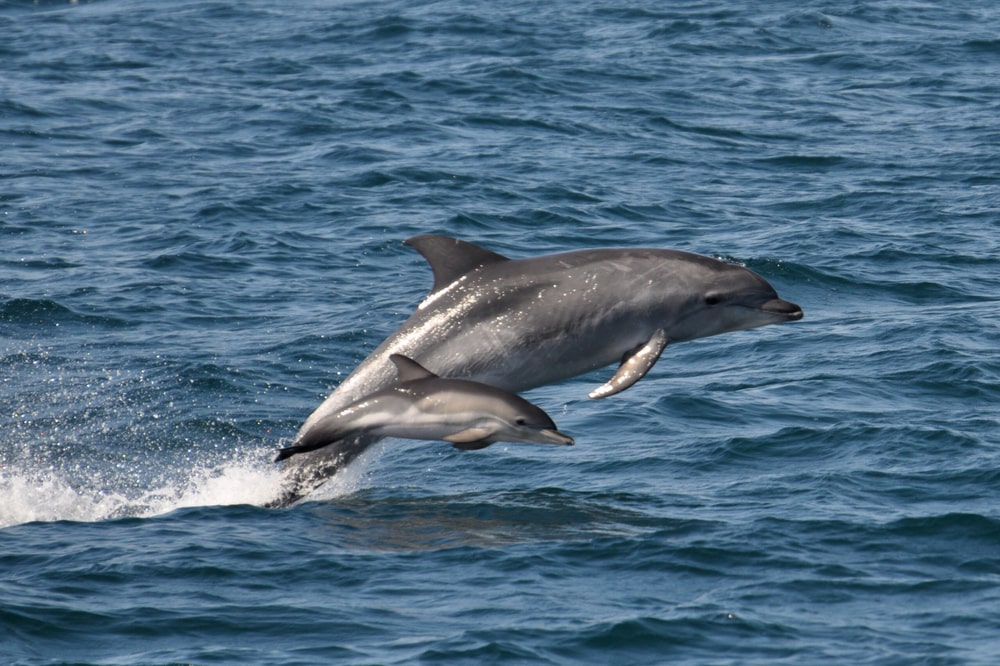 Best time to see whales & dolphins in Lanzarote?
The best part about Lanzarote is that the temperatures are not too extreme, and the water is calm most of the year. So, you will have no problem seeing dolphins and whales throughout the year. Although, you are more likely to see a dolphin than a whale.
However, it is important to remember that there is no guarantee when it comes to seeing whales and dolphins. Considering they are wild animals, it is impossible to ascertain where they might be.
Where can you see whales & dolphins in Lanzarote?
The entire island is surrounded by waters that are perfect for whale and dolphin viewing. However, some of the best spots are Puerto del Carmen and Isla de Lobos. Other famous spots are neighbour islands Tenerife and Fuerteventura.
Can you swim with whales & dolphins in Lanzarote?
There are many tours where you can snorkel and enjoy marine life underwater, but it is not possible to swim with wild dolphins and whales. It is actually against the law. Since it is disrespectful and unsafe for the animals, swimming is generally looked down upon as it can impact their welfare and cause dangerous situations for both human and animal.
What types of whales & dolphins can you spot in Lanzarote?
Two of the most common marine animals you might get to see are dolphins and pilot whales. Additionally, you might also spot blue whales, sperm whales, and orcas.
Beste Whale & Dolphin Tour in Lanzarote
Now, coming to what you came here to read. If you are looking for something fun to do that is suitable for all ages, why not look at this amazing half-day dolphin & whale watching trip. Since it is half a day, it will not be too tiring for senior family members, nor will it get boring for the kids.
What does your day look like?
The tour will start right at your hotel, where an air-conditioned bus will pick you up and head to the Marina Puerto del Carmen. Then you will board a fast boat called the "Biosfera Jet" for exciting dolphin watching. The boat ride will have live commentary, while audio guides are available in English, French, and Spanish.
In the 1.5 hours you spend on the boat, there is a lot you will get to see. From panoramic views of the island to all the marine animals present to dolphins living their best life in the water- you wouldn't want to miss it!
Once the boat ride is over, you will be taken to a small village on the island. Take your pick between visiting the market, exploring the area around the village, or swimming in the natural pool.
Check to availability and price of this tour here.
What to carry on your trip?
Valid identification card such as passport
Comfortable shoes for walking
Swimwear and towels
Sunscreen
Highlights
5-hour tour
Audio guides in three languages
Hotel pick up and drop off available
Mobile ticketing
Free cancellation and instant confirmation
Food and drinks included
Live commentary on 1.5-hour boat trip
Top 4 marine wildlife activities to do in Lanzarote besides whale watching?
As we mentioned, Lanzarote is one of the Canary Islands that Spain administers. If you are looking to find something worth posting "on the 'gram" or need to remind yourself how beautiful the world is, this is the place to go. Let me show the best things to do in Lanzarote besides whale watching
Go kayaking and snorkeling on Papagayo Beach
Enjoy the scenic beauty of Papagayo Beach on a kayak for 3 hours. There will also be a tour guide talking about the area's history. Furthermore, safety instructions and kayaking lessons will be given before the tour. For more information – click here!
Underwater Sea Trek Experience
This is a short 30 min tour for a maximum of 8 people where you can walk underwater. You will be provided with the appropriate equipment, and an instructor will be there to guide you. Fore more information – click here!
Explore Lanzarote in a real submarine!
After a hotel pickup, you will be boarding the "Sub Fun Tres" submarine. For the next hour, the submarine will be 100-feet underwater, where you can watch the sea life around you. For more information – click here!
Introductory Diving Course in Costa Teguise
When in Lanzarote, book a 5-hour diving course with experienced instructors. Included in the tour are equipment, drinks, and hotel pickup. For more information – click here!